Want to do an international abroad internship in Europe? Then the application is open to apply for the CRG summer internship program for undergraduate & master students. This abroad summer internship program held in Barcelona, Spain. The most important thing is that this is a paid international internship program for an undergraduate & master student.
The objective of the CRG summer internship to attract international student from all around the world with any nationality to gain practical field experience and spend there summer in the European environment. All the selected interns will work at the Center for Genomic Regulation (CRG).
The total duration of a summer internship in Barcelone, Spain will be 320 working hour that means 40hr/week from June to July. It is the 8th summer abroad internship program of CRG and provides an excellent opportunity to conduct research at the CRG center.
CRG Summer Internship in Spain 2021
Country: Barcelona, Spain
Organization: CRG (Center for Genomic Regulation)
Duration: 320 working hours (40 hours/ week)
Financial Coverage: Fully Funded
Deadline: 8th March 2021
Also Check: Illinois Wesleyan University USA Scholarship 2021
Eligibility criteria for undergraduate students
Undergraduate students with excellent academic records and a great interest in the previous fields.
Two full years (4 semesters) of university work completed at the time the internship begins.
Applicants may not have received a university degree at the time of the internship (summer 2021).
High level of English.
You have the availability to make an internship/student contract through your university.
Also Check: 1200 Heinrich Boll Foundation Scholarships In Germany 2020
Eligibility criteria for masters students
Master's students with excellent academic background and great interest in the previous fields.
Currently enrolled in a master's degree at an accredited university and after the summer internship.
High level of English.
You have the availability to make an internship/student contract through your university.
Also Check: Ton Duc Thang University Scholarship In Vietnam 2021 (Funded)
Financial coverage
The CRG summer internship is a free fully-funded abroad internship for all international students. All expenses will be covered. It is a paid internship in Spain.
All selected candidates will receive a scholarship of € 400 / month.
1 return ticket to the student's place of residence (European ticket up to € 300 / abroad up to € 800)
Food vouchers (lunch/weekdays) for 2 months.
Students must provide their own health and accident insurance if not provided by the University.
From this scholarship, students are responsible for their own home.
Also Check: CERN Technical Student Internship Program in Switzerland 2021 (Fully Funded)
Internship Fields
CRG summer abroad internship in Spain available in the following field.
Biosciences
Biomedical Research
Life Sciences or Related Subjects
Bioinformatics
Biomedicine
Biochemistry
Pharmacology
Chemistry
Dates and duration of the internship:
320 hours of work (40 hours/week) spread over 2 months from June / July to September 2021.
Also Check: MIEM Excellence Scholarship In France 2021
CRG Application Requirements
The application form must be completed online. Prepare the application form in English.
Your most recent academic transcript.
Candidates must provide the contact details of at least one arbitrator.
Applicants are encouraged to check information (http://www.crg.eu/content/research/faculty-members) about the laboratory and the group leader before selecting one on the form.
Also Check: Khalifa University Scholarship In Abu Dhabi 2021 (Master & Ph.D.)
Deadline
The last date to register for CRG Spain Summer Internship 2021 is March 8, 2021.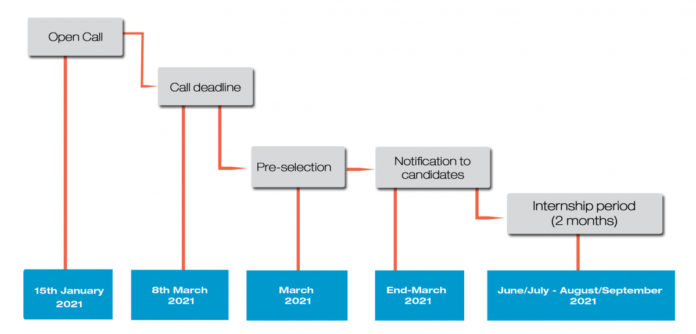 How to apply for a CRG summer internship in Spain
You must complete an online application form. An incomplete application will not be accepted. To Apply, Please Visit the Official website of the CRG Internship in Spain.
Also Check: Maastricht University Holland High Potential Scholarship 2021