Application is now open to apply for DAAD scholarship in Germany 2021-2022 funded by BMZ (Federal Ministry for Economic Cooperation and Development). This is a fully-funded Germany scholarship 2021 for international student all around the world to pursue master's and doctoral degrees.
DAAD scholarship offers various universities with a wide range of academic disciplines for a foreign student. Every year DAAD scholarship offers more than 10000 scholarship to german as well as an international student. This is the best opportunity and world best scholarship opportunity to study in Germany for free.
The duration of the DAAD master scholarship in Germany will be 12-24 months and the duration of a doctoral degree will be 36 months. All student expenses and tuition fees will be covered by the DAAD scholarship program.
DAAD Scholarship in Germany 2021
Scholarship Country: Germany
Scholarship By: Funded by the BMZ
Financial Coverage: Fully Funded
Course Level: Masters, Ph.D.
Duration: 12 Months, 24 Months, 36 Months
Deadline: Varies from University to University
Also Check: Edith Cowan University Destination Australia Scholarships 2020 (Fully Funded)
DAAD Scholarship Criteria
Candidates from all developing countries.
Applicants have a bachelor's degree (usually a four-year course) in an appropriate subject.
Your academic degrees should normally not be more than six years old.
Applicants have at least two years of professional experience.
English language requirements: according to the chosen study program; consult the scholarship brochure or the website of the chosen study program (CLICK HERE FOR THE BROUCHER)
Also Check: University of Westminster Undergraduate Scholarships 2020 (Fully Funded)
Required Documents
The DAAD Scholarship Application found in the "Registration Procedure".
A hand-signed CV (use the Europass sample form: http://europass.cedefop.europa.eu/
A motivation letter signed by hand
Letter (s) of recommendation (s)
Professional letter (s) of recommendation from your employer
Confirmation of the employer's employment in their country of origin and, if possible, a guarantee of reemployment.
Language skills test:
English – TOEFL or IELTS (Note: we only accept one academic TOEFL)
German – required for courses taught in German; for courses taught in English, if available
copies of academic degrees awarded
copies of academic records
Also Check: University of Huawei Hilo International Student Scholarship 2020
Financial benefits
DAAD Masters and Doctorate Scholarships is a fully-funded scholarship in Germany for international students. It will cover all the expenses to study for free in Germany.
Depending on the academic level, monthly payments of 850 euros for graduates or 1,200 euros for doctoral students.
Payments for health insurance, accidents, and personal liability.
Travel expenses, unless these expenses are covered by the country of origin or other sources of funding
Under certain circumstances, fellows may receive the following additional benefits:

Monthly rental allowance
Monthly allowance for family companions.
Also Check: Global Internship Program (GIP) South Korea 2020 (Fully Funded)
List of Universities & Courses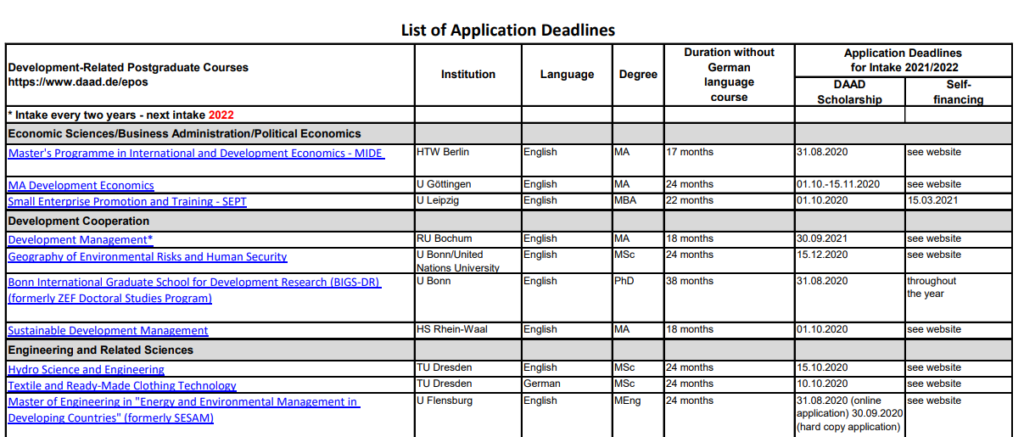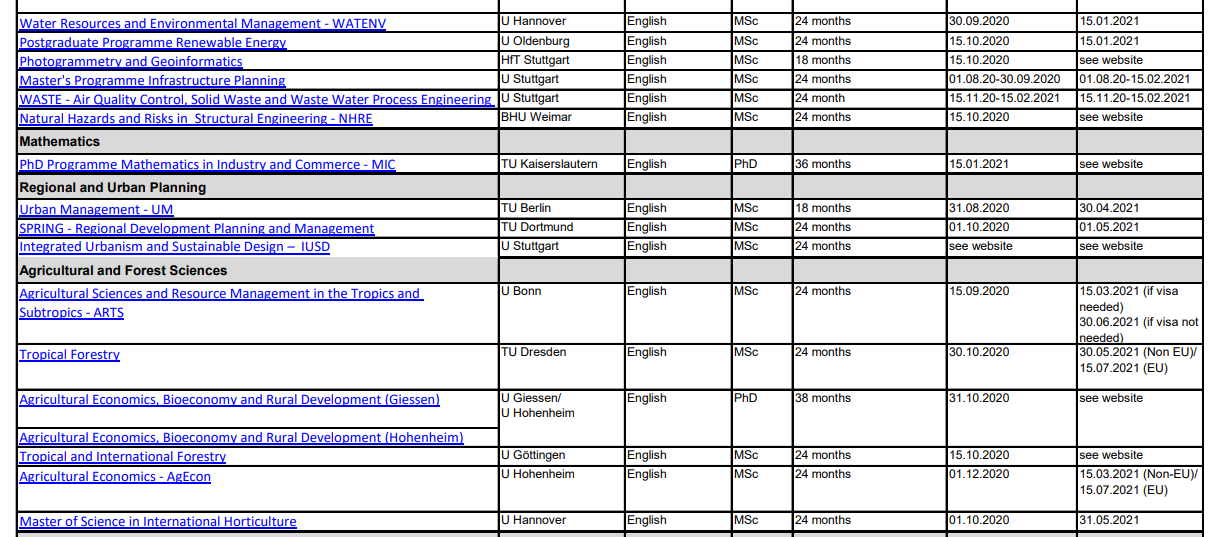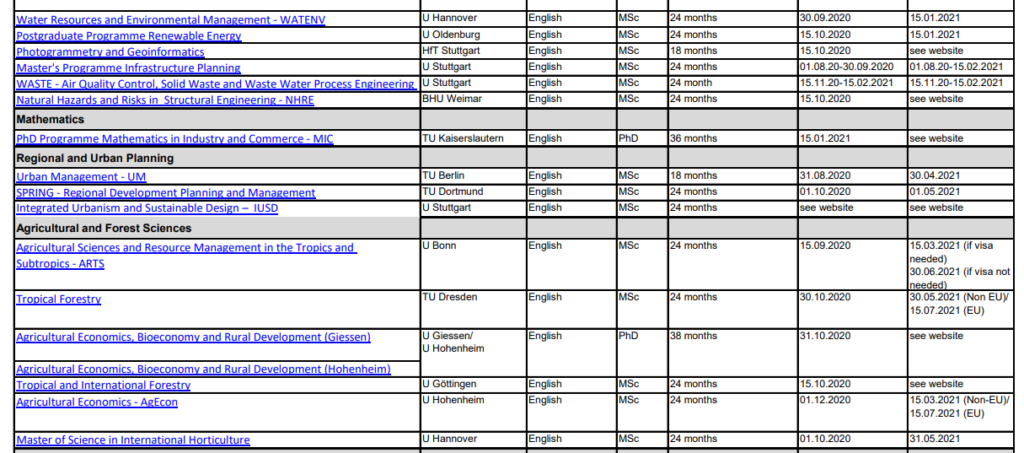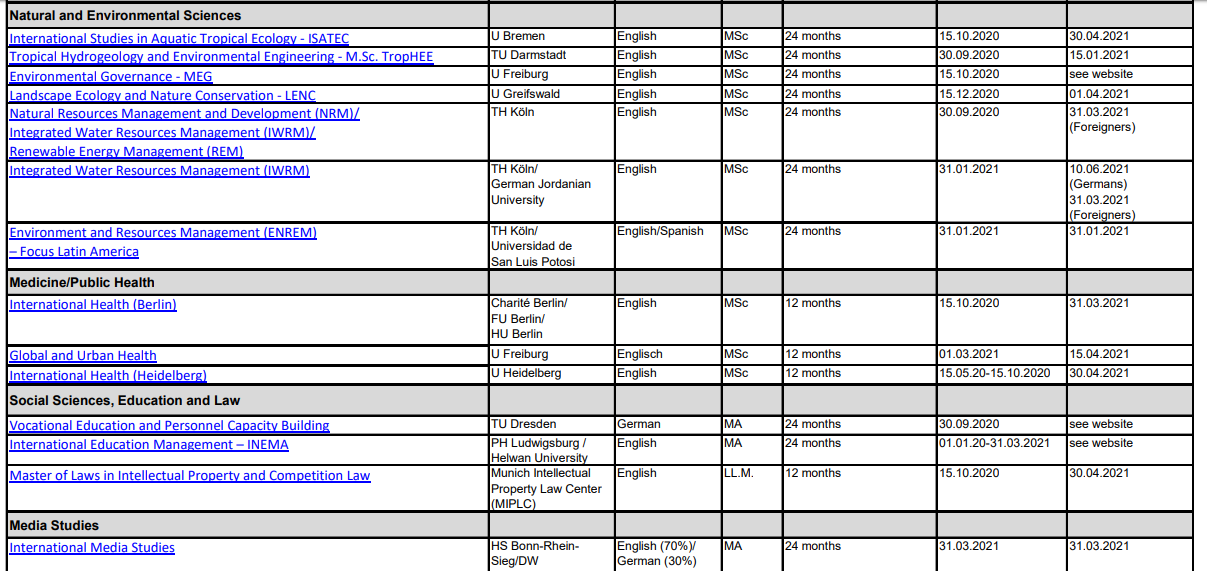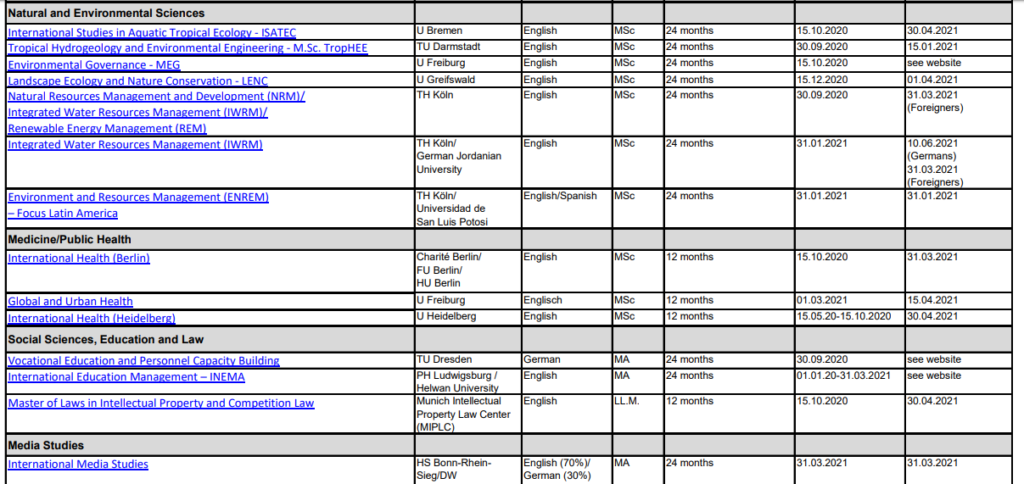 Click Here To Check The PDF Version Of the above image with full Detail.
Also Check: IELTS Prize Scholarship 2020 For International Student
Deadline
The last date to apply for a DAAD scholarship in Germany 2020-2021 varies from one university to another and from one course to another. Each university has a different term. You can check The Complete detail here.
How to apply for the DAAD 2020 scholarship:
You have to apply online. The link to the DAAD Online portal, the official website link, is given below. Select your country and read more information.
Click Here To View Official Source Of DAAD Scholarship:
Also Check: New Zealand Government Fully Funded Scholarship 2021