Application is open to apply for 1200 Heinrich Boll Foundation Scholarships for international students 2021. The Heinrich Böll Foundation awards scholarships in Germany 2021 to approximately 1,200 undergraduate, graduate, and doctoral students of all disciplines and nationalities per year
Want to study in Germany for free? Then apply to this german scholarship program in 2021. A variety of academic disciplines available under the Heinrich Boll Foundation Scholarships in Germany 2021. The mode of german scholarship 2021 is online only. A selected applicant for Heinrich Boell foundation scholarships will study at the state or state-recognized universities in Germany.
About: The Heinrich Böll Foundation is a legally independent German political foundation. Affiliated with the German Green Party, was founded in 1997 when three predecessors merged. The foundation is named after the German writer Heinrich Böll (1917–1985).
Heinrich Boll Foundation Scholarships 2021
Country: Germany
Degree Level: Undergraduate, Masters, Doctoral
Funded by: DAAD & Heinrich Boll Foundation
No. of Scholarships: 1,200
Deadline: 1st March 2021 (of Each Year)
Also Check: Ton Duc Thang University Scholarship In Vietnam 2021 (Funded)
The selection Procedure, Steps, and Criteria.
The international scholarships of the Heinrich Böll Foundation in Germany consist of three stages below:
Submission of Written Application Documents.
An interview with a liaison Lecturer (telephone interviews can also be conducted).
Participation in a selection workshop in Berlin, which consists of an individual interview and a group discussion.
There is no age limit.
Also Check: CERN Technical Student Internship Program in Switzerland 2021 (Fully Funded)
Required documents
Application form
Eligibility to enter university or equivalent
A list of study certificates so far, if you have already started your studies
For foreign applicants for a master's degree scholarship: a certified copy of their first-degree certificate
Student enrolment Certificate
Written proof of German language proficiency. DSH 2 or minimum level of B2
A third party reference on your social commitment.
A specialized reference from a university or university professor.
Also Check: MIEM Excellence Scholarship In France 2021
No. of scholarship In Germany
A total of 1000 scholarships will be provided in Germany to study in Germany for international students to all citizens around the world.
Type of Scholarship
They have two types of scholarships.
Scholarship (Undergraduate, Master)
Promotion Scholarship (Doctorate)
Also Check: Khalifa University Scholarship In Abu Dhabi 2021 (Master & Ph.D.)
Scholarship in Germany 2021 Coverage
The Heinrich Boll Foundation scholarships in Germany will cover basic expenses. Details of the scholarship benefits are provided below.
Master Scholarship In Germany Coverage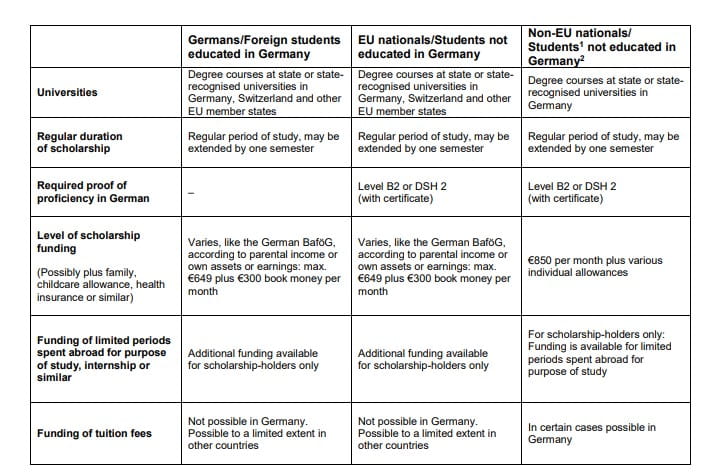 Doctoral Scholarship In Germany Coverage: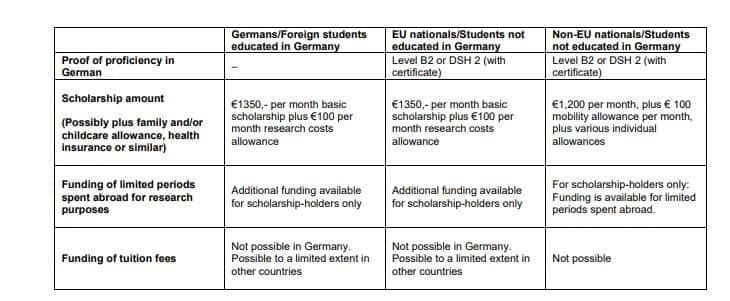 Also Check: Maastricht University Holland High Potential Scholarship 2021
Master Degree level
For German/foreign students trained in Germany: First degree only (Bachelor)
EU nationals/students not trained in Germany: only master's degrees
Students/citizens outside the EU1 No training in Germany: only master's degree
Degree Level For Doctoral Scholarship 2021:
Deadline
The last date to apply for grants from the Heinrich Boll Foundation in Germany for international students and German students is March 1, 2021.
How to apply for Germany Scholarship:
The link to the official website is provided below, as well as the link to the registration form. Only online applications will be accepted. To Apply, Please Visit the Official website of the Heinrich Boll Scholarship 2021.
Also Check: Taiwan International Graduate Program Scholarship 2021 (Fully Funded)