Application is invited to apply for Swiss Government Excellence Scholarships for Foreign Scholars and Artists for the 2024-2025 Academic Year. This is a fully-funded Switzerland scholarship for international students.
The Swiss government excellence scholarship is open to more than 180 countries students to study for a master's Degree and Ph.D. Degree from highly prestigious Switzerland Universities.
Last year more than 281 students won this international scholarship program and this year they are targeting a select 500 students from 180 countries.
Students can study any major field and discipline under the Swiss Government Excellence Scholarships for Foreign Scholars. There are no application fees for Switzerland's international student scholarship.
Swiss Government Excellence Scholarships 2024
Country: Switzerland
No of Scholarships: 500
Financial Coverage: Fully Funded
Course Level: Masters, Ph.D./Postdoc/Research Degree
Deadline: September – December
Also Check: Groningen University Eric Bleumink Scholarship In Netherlands (Fully Funded)
Course Level
Swiss Government Excellence Research Scholarships for foreign students
Swiss Government Excellence Ph.D. Scholarships for foreign students
Swiss Government Excellence Postdoctoral Scholarships for Foreign Researchers
Swiss Government Excellence Art scholarships
Swiss Government Scholarship Coverage
The Swiss government is awarding fully funded scholarships in Switzerland to international students and will cover all expenses.
Monthly Stipend
Tuition Fee
Roundtrip flights
accommodation
Health plan
Housing assistance
Research fund
Types of Swiss Scholarship
The research scholarship is available to post-graduate researchers in any discipline (who hold a master's degree as a minimum) who are planning to come to Switzerland to pursue research or further studies at the doctoral or post-doctoral level (research fellowship, Ph.D., Postdoc).
Research scholarships are awarded for research or study at all Swiss cantonal universities, universities of applied sciences, and the two federal institutes of technology, as well as the four research institutes. Only candidates nominated by an academic mentor at one of these higher education institutions will be considered.
Art scholarships are open to art students wishing to pursue an initial master's degree in Switzerland (arts).
Art scholarships are awarded for study at any Swiss conservatory or university of the arts. This scholarship is available to students from a limited number of countries only.
Also Check: Asian Development Bank ADB Internship Program (Fully Funded)
Eligibility Criteria
The eligibility criteria for Swiss government grants vary and are different for each country. If you want to check the eligibility criteria for your country, you can select your country:
Select Your Country: Countries A – L / Countries M – Z
Duration of the Swiss Scholarship
Research Scholarships in Switzerland: 12 Months Maximum
Doctoral Scholarships in Switzerland: 12 Months
Post-Doctoral Scholarships in Switzerland: 12 Months
How to Apply for Swiss Excellence Scholarships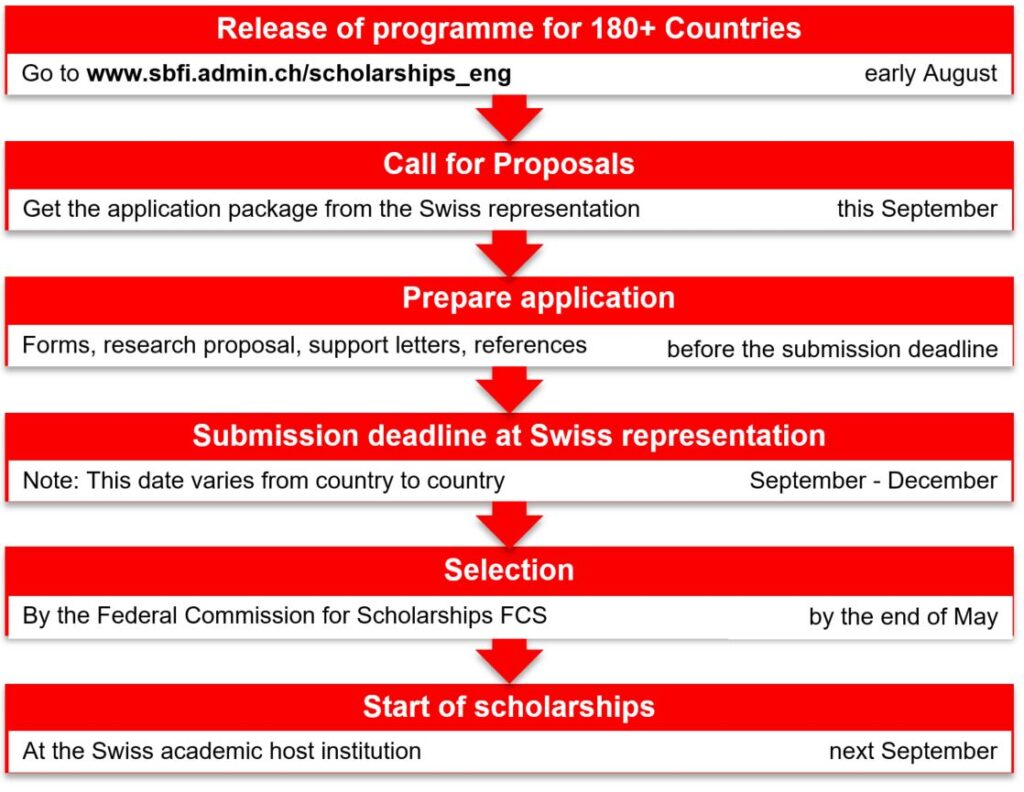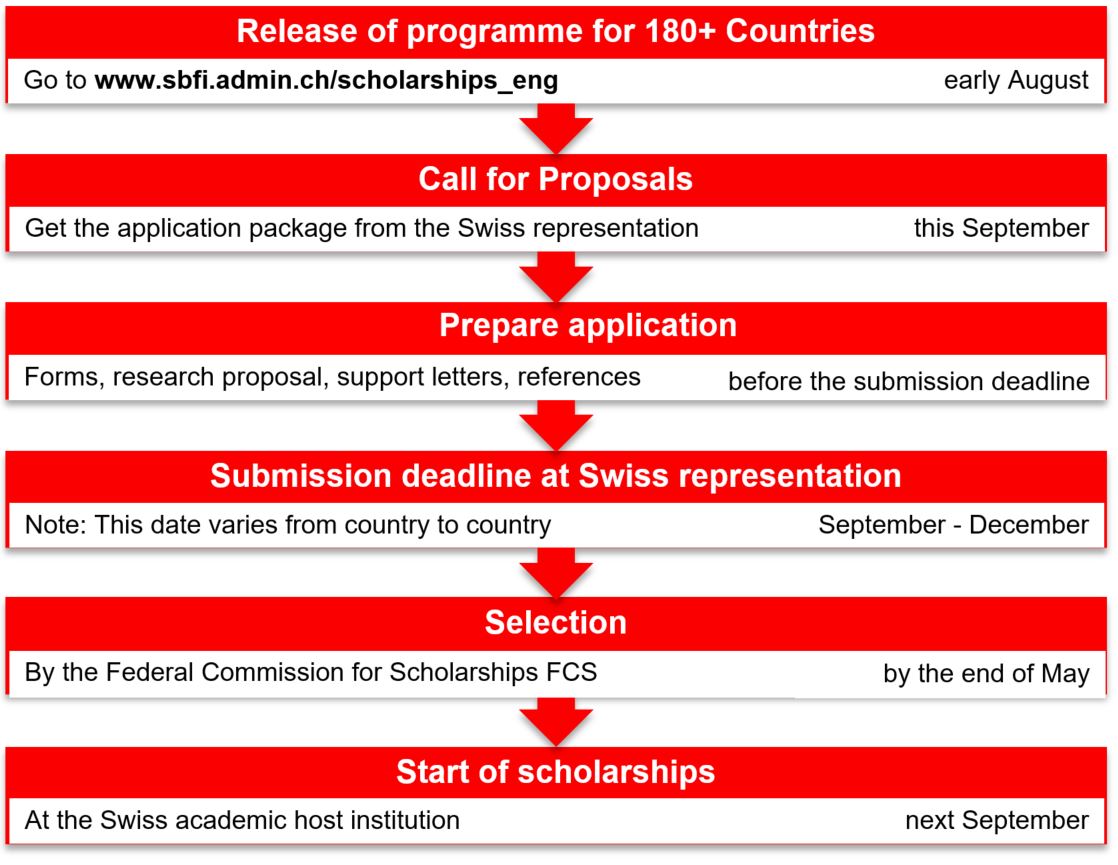 The application process is also different for each country defined by the Swiss authorities. To apply, visit the official website of the Swiss Government Excellence Scholarship.
Please Subscribe to Our Telegram Channel To Get The Latest Scholarship Updates.
Also Check: University of Otago Scholarships in New Zealand (Funded)